Aït Benhaddou Travel Guide
Aït Ben Haddou is one of the most iconic Moroccan villages in existence today, and a must visit for anyone traveling in the Ouarzazate region. This ighrem (or fortified village in English) sits along a former caravan route that was used to connect the Sahara desert and Marrakech. The village itself was awarded the UNESCO World Heritage Site designation in 1987, and is perfect for history buffs and photography lovers alike. It has been used in film and TV productions for countess films, including: Gladiator, The Mummy, Babel, Prince of Persia, The Jewel of the Nile, Oedipus Rex, The Man Who Would Be King, and Game of Thrones.

The village offers many forms of accommodation, and most have a balcony that overlooks the village from across the river. I recommend staying in the village because the people are lovely, and having breakfast across from this iconic view seems to slow time down, and transport you back to an era that has long since been lost. This is definitely a site that you want to take your time at, to really feel the history. However, a one-night stay is plenty since the village can be toured in less than three hours (Aït Benhaddou is about 30 minutes away by car from Ouarzazate).
Where to Stay in Ouarzazate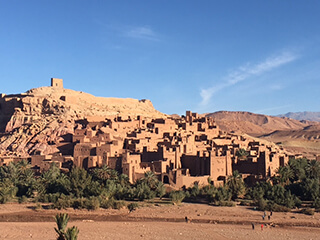 Once you have crossed the river, walk towards the main big gate, you will easily see it. Continue past the gate, and follow the path around to what almost feels like the far side of the village. This is the actual entrance to start your tour, and it will end with you exiting across the bridge back to town. If a local tells you to pay 8-10 DH to enter the village, DO NOT PAY THEM. It is free to enter, even if there is a sign saying entrance fee, I promise there is no fee to enter, just clever business skills of locals.
Walk the streets of the old Ksah, and enter shops that are located inside if you like. There are plenty of shops near the end of the tour, and once you cross the bridge back to the main village. Be sure to stop at the top of the village and take in the beautiful scenery, it does not disappoint.
Visiting Aït Ben Haddou is always a favorite among holiday travelers in Morocco, so make sure you stop by for a visit back to the early centuries that created such an iconic movie set.
Share your experiences with our community.
Related articles : Ancient cities of Morocco
Join our Mailing List and receive electronic invitations and news about cultural events in Morocco.
---