Home
›
Natural destinations
Natural Destinations
The following is a list of beautiful natural destinations that are well worth a visit.
Akchour

Akchour is a small village in Morocco, 30 km from Chefchaouen on the road to Oued Laou.
Visit in Spring as there is less water in late Summer.
Ouzoud Falls

Ouzoud Falls are located near the Grand Atlas village of Tanaghmeilt, in the province of Azilal, 150 km northeast of Marrakesh
Toubkal Mountain

Toubkal is a mountain peak in southwestern Morocco at 4,167 metres high, it is the highest peak in the Atlas Mountains as well as in North Africa.
Drâa Valley

Drâa Valley is Morocco's longest river at 1,100 kilometres. It is home to one of the richest oasis in the south of Morocco, with more than two million and half date palm trees.
Related articles : Natural destinations
Join our Mailing List and receive electronic invitations and news about cultural events in Morocco.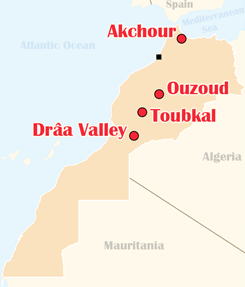 | | |
| --- | --- |
| Coordinates | |
| Akchour | 35° 14' 17.4" N, 5° 10' 36.5" W |
| Ouzoud Falls | 32° 0′ 54.84″ N, 6° 43′ 11.24″ W |
| Toubkal Mountain | 31° 3′ 43″ N, 7° 54′ 58″ W |
| Drâa Valley | 28° 40′ 55.99″ N, 11° 4′ 17″ W |
---