Travel Tips : Packing List - What to pack?
This list will help you organize for your next vacation to Morocco.
Travel Information
Passport & Visa
Credit Cards
Travel Confirmation
Driver's License
Itinerary
Membership Cards
Morocco Guidebook
Language Guide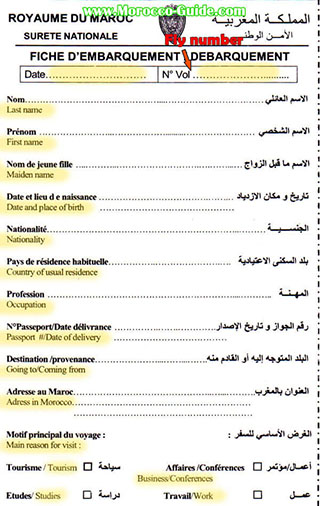 You will have to fill in an immigration card, like this one bellow. Cabin crew will give you one to fill in in the cabin before your arrival. If not you will find them before Immigration / Passport control. You will have to fill in another immigration card before departure. Don't forget to bring a pen :)
Click here to download the form - for illustrative purposes
Traveller Advice
Means of Payement
Arrival :
If you travel with more than ≥ 100.000 MAD (11155$) you must declare it.
If you stay more than 30 days, you must exchange any foreign banknotes you brought into the country.
Departure :
As above, if you travel with more than 100.000 MAD you must declare it to Customs.
N.B: Moroccan dirhams are tolerated within the limit of 1.000 MAD (112$) for both entering + departing the country
Useful Documents
Technology
Cellphone & Charger
Converters & Adapters
The voltage in Morocco is 220 V, outlets will fit the two-pin plug known as the Europlug.
American appliances are generally made for 110V, so be careful not to plug them in if they aren't able to work with (Dual Voltage). If not you'll need a power converter as well as an adaptor.
Related articles : Travel Tips
---