Home
›
Ancient cities of Morocco
Ancient cities of Morocco
The following is a list of beautiful ancient cities that really are worth a visit.
Volubilis
Volubilis was a Roman city built on the ruins of an early Phoenician city. It's a UNESCO World Heritage Site and one of the best preseved ancient cities in Morocco.
Lixus

The ancient city of Lixus was a major Atlantic port for the Phoenicians. The city emerges from a hill at the bend of the Loukkos River on the western coast of Morocco.
Sala colonia - Chellah

Sala colonia also called Chellah was a colony of different cultures: the Phoenicians, the Carthaginians and the Romans, it is a medieval fortified necropolis located near the capital of Morocco Rabat.
Aït-ben-Haddou

Ait Ben Haddou is located in the Ounila Valley, south of Télouet. It was an important crossing point for the caravans (group of people traveling together across a desert) from Marrakesh to Sahara.
Related articles : Ancient cities of Morocco
Join our Mailing List and receive electronic invitations and news about cultural events in Morocco.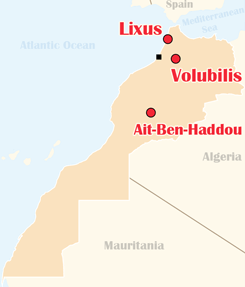 | | |
| --- | --- |
| Coordinates | |
| Volubilis | 34° 4′ 26″ N, 5° 33′ 25″ W |
| Lixus | 35° 12′ 3″ N, 6° 5′ 55″ W |
| Aït-ben-Haddou | 31° 2′ 49.92″ N, 7° 7′ 44″ W |
---