Merzouga Travel Guide
Access
The village is accessible by road, taking ten hours from Marrakesh and eight from Fes.
The easiest way to get to Merzouga is to land in Ouarzazate, although it still takes a further 5 hours from there.
Where to Stay in Merzouga
Location
Merzouga is a small village located in south-eastern Sahara, about 50 kilometers from the Algerian border.
Places to visit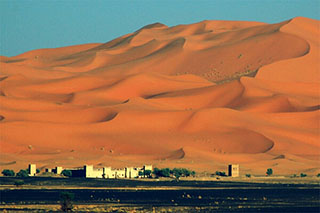 The dunes! Merzouga is famous for its dunes, the highest in Morocco. The village is adjacent to the largest Erg in Morocco the Erg Chebbi. The spectacular golden dunes of Erg Chebbi are among the most remarkable of the Sahara. Some dunes rise to 150 m in height. They stretch to the horizon from the famous Valley of Ziz and the Algerian border.

There are many visitor attractions such as camel trekking, quad biking, and in summer dust bathing.
Being surrounded by the desert gives you the opportunity to experience a relaxing moment of peace, Do not miss the unbeatable beauty of the night sky.
Near Merzouga
45 km from Merzouga, the town of Erfoud is famous for its dates. You can also visit Tinghir, 180km from Merzouga, to visit one of the most beautiful palm groves in Morocco.
Share your experiences with our community.
Join our Mailing List and receive electronic invitations and news about cultural events in Morocco.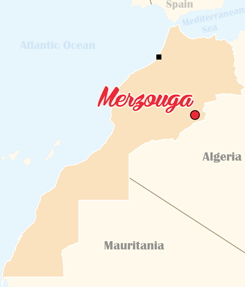 Coordinates: 31° 5′ 57″ N, 4° 0′ 42″ W
| | |
| --- | --- |
| Name in English | Merzouga |
| Name in Arabic | Mrzouga |
| Region | Daraa - Tafilalet |
Reçani

weather
Friday 12:00
Sky is clear
28

ºC

| 83

°F
---