Chefchaouen Travel Guide
Getting there
By Plane
The closest airport to Chefchaouen is the Tangier airport, 'Tangier Ibn Battouta Airport'.
By Train
There is no train station in the city.
By Bus
The bus station is situated on Mohammed V avenue, there are the following buses each day:
Tangier : 2 buses (via Tetouan) - travelling time 1 hour 30 minutes.
Fes : 3 buses - travel time 4 to 5 hours.
Al-Hoceima, Nador : 2 buses - travel time 5 hours.
Meknes : 2 buses - travel time 6 hours.
By Car
Hiring a car is a good idea if you want to see some other towns and sites en route.
From Rabat : 3 hours 45 minutes
From Casablanca: 4 hours 45 minutes
From Tangier : 2 hours
From Marrakesh : 7 hours
Where to Stay in Chefchaouen
History
Chefchaouen was founded in 1471 by the Cheriff Ali ibn Rashid al-Alami with the population being mainly made up of Andalusians and Moriscos who were expelled from Spain.
Places to visit

Chefchaouen Medina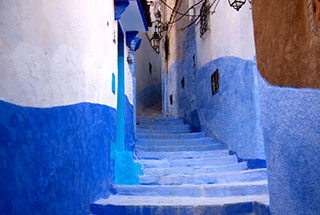 It's an amazing experience to go walking around the Blue town and get lost in the old city. Here sellers are helpful but not pushy.
Rass el Ma
'Rass el Ma' means 'Head of the Water' in Arabic meaning the source of the water, a stream appearing from the rocks down below the medina.
The Spanish Mosque
This white mosque is on the hill opposite the medina. You can access it by following the road up from Ras el Ma and this is the best spot for taking photos of Chefchaouen.
Akchour Waterfall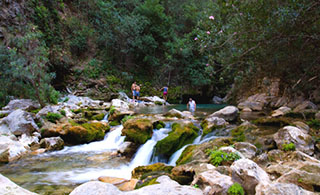 The waterfalls are located inside the Rif mountains. It is a 45 minute drive to get to the trailhead for Akchour Waterfall. You can share taxis from chefchaouen which will cost you 35 Dhs (4$).
This natural park is a great place to hike and relax. If you want to reach the end of the trail, you'll have to overcome a few obstacles and it is recommended to go with a group since you will need some assistance during the walk, but it's worth it to reach the final cascade.
The Bridge of God
Called in French : 'Le Pont de Dieu' it is a very impressive natural bridge, at a height of 25m above the river near to Akchour Waterfall.
Museums
Kasbah Museum
This small museum displays local craftsmanship as well as the exhibits. You can also visit a nice Andalusian garden and enjoy a pleasent view from the top of the tower. Ticket cost : 20 Dhs (2$)
Share your experiences with our community.
Join our Mailing List and receive electronic invitations and news about cultural events in Morocco.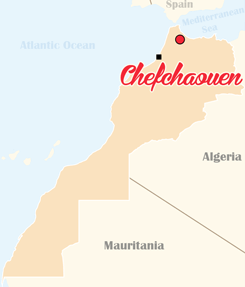 Coordinates: 35° 10′ 17″ N, 5° 16′ 10.99″ W
| | |
| --- | --- |
| Name in English | Chefchaouen |
| Name in Arabic | Chaouen |
| Region | Tangier - Tetouan |
| Population | 35 709 |
| Demonym | Chaouni |
| Zip Code | 91 202 |
Chefchaouene

weather
Wednesday 12:00
Broken clouds
18

ºC

| 64

°F
---