Ouarzazate Travel Guide
Ouarzazate is a city in southern Morocco and is the perfect base for excursions across the Draa Valley and into the desert.
Getting there
By Plane
You can fly to Ouarzazate International Airport however the airport is mainly served by domestic flights.
By Train
There is no train station in the city.
By Bus
From Marrakesh you can reach Ouarzazate in about 4 hours (200 km) The road is mountainous and beautiful.
By Car
The shortest road is the National N°9 from Marrakesh however it is much more enjoyable to take the bus there is so to enjoy the scenery. Once in Ouarzazate, take the red taxis which have a flat rate of 4 and 6 dirhams (1$) per person.
Where to Stay in Ouarzazate
History
Ouarzazate means in Tamazight 'without noise' and the town was a crossing-point for traders traveling from Sub-Saharan Africa through the Sahara Desert heading to northern Morocco.
Berbers are the original inhabitants of this region followed by black Africans and the Jewish.
Places to visit

Kasbah-town of Aït Benhaddou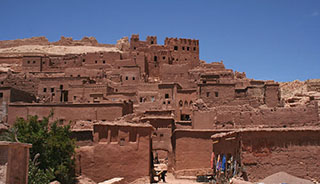 Aït Benhaddou Kasbah is the most famous ksar in the Ounila Valley as it is the most well preserved and most beautiful remaining village. People in the seventh century started to settle in this oasis area to escape the Arab-Muslim occupation of northen Morocco but the village was built only five hundred years ago. The Kasbah is protected by a giant fortification and was an major transit point for the caravan between the Sahara desert and Marrakesh. The Ksar is a UNESCO World Heritage Site.
Kasbah Taourirt
The Kasbah (Fortified city) Taourirt was built with earth and wood. The buildings are surrounded by high walls and it is a traditional pre-Saharan habitat. The Kasbah belongs to the village of the same name attached to Ouarzazate.
Jebel Saghro
The mountain (Jbel) peaks above 2,712 meters. It is located less than 100 km south of the Central High Atlas, 'Saghro' means in Tamazight 'drought'.
It is an ideal place for hiking, with your luggage carried on mules. Trekking in 4x4 is becoming more frequent and allow you to cover more ground more easily.
Oasis Fint
The oasis is peaceful and calm and it is only 30 minutes from Ouarzazate by taxi. This place is not to be missed, you can see the villagers working there, drink a mint tea or eat a Moroccan tagine in an authentic environment.
Cinematic studios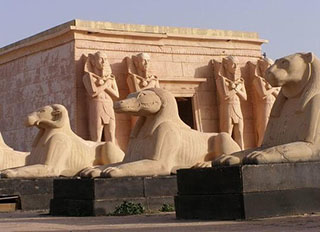 CLA Studios and Atlas Film Studios are one of the largest movie studios in the world. Several box office movies and TV Shows were shot in Ouarzazate such as Lawrence of Arabia, Gladiator, Alexander, Kingdom of Heaven, Babel, Prince of Persia, Game Of Thrones (S3) and Prison Break (S5)...
Share your experiences with our community.
Join our Mailing List and receive electronic invitations and news about cultural events in Morocco.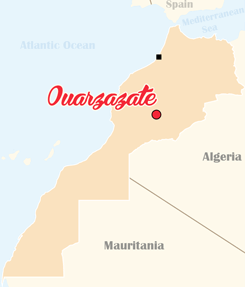 Coordinates: 30° 55′ 22.77″ N, 6° 54′ 15.2″ W
| | |
| --- | --- |
| Name in English | Ouarzazate |
| Name in Arabic | Warzazat |
| Region | Daraa - Tafilalet |
| Population | 174 105 |
| Demonym | Ouarzazati |
| Zip Code | 45 000 |
Tawrirt

weather
Friday 12:00
Sky is clear
31

ºC

| 87

°F
---