Taxis in Morocco
Taxis are among the most popular and common mode of transport in Morocco and there are two groups of taxis:
Small Taxi :

these are urban taxis called 'Petit taxi'.

Big Taxi :

these are extra urban taxis called in french 'Grand Taxi'.
Small taxis 'Petit Taxi'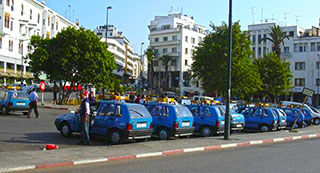 These taxis have a maximum capacity of three passengers. They don't travel outside of the city and are painted in a designated color. The customer chooses the destination and each taxicab has a meter. If during the journey there is a free place the taxi driver may pick up other customers, it's very normal in Morocco.
Knowing that you are a foreigner some unscrupulous taxi drivers may try to make a detour, so it is recommended that you agree a fixed price in advance or ask the driver to use the meter (if it is a petit taxi).
Taxis are different colors in each city :
Blue :

Rabat, Chefchaouen

Light blue :

Tangier, Meknes

Blue & white :

Dakhla

Red :

Casablanca, Fes, Nador, Azilal, Khourigba, Oujda

Red & White :

Laayoune

White :

Ouarzazate, Taroudannt

Off-white :

El Jadida, Safi, Kenitra

Ochre :

Marrakesh

Orange :

Berkane, Agadir

Yellow :

Tetouan, Sale, Settat, Midelt, Beni Mellal

Green :

Azrou, Aklim, Ifrane

Pistachio-green :

Mohammedia
The 'petits taxis' are in most cases small cars like Peugeot 206, Fiat Palio or Dacia Logan. They are cheap in Morocco by western standards, the average cost of a petit taxi being between 25 and 50 Dhs (6$).
Big Taxis 'Grand Taxi'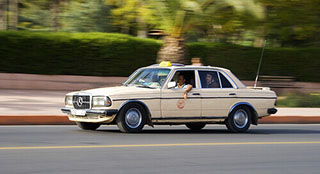 These taxis are often old Mercedes with a capacity of six passengers and the taxi driver, two passengers on the front-passenger seat and 4 passengers in the rear. They may be in white, yellow or grey and have a fixed route to a set destination.
We don't recommand using these taxis as they aren't very comfortable and the drivers are renown for driving and taking risks.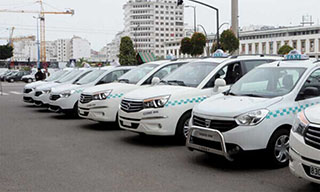 At the airport, check the price before setting off on the journey to the city center. The prices are posted on a sign at the airport taxi stand.
If you decide to take a 'grand taxi' to travel, always negotiate the fare as the taxi driver may want to travel with all the six seats occupied. You can hire a whole taxi and to estimate the cost of your trip take 15 dhs (2$) per 25km per person (x6 if you want the taxi only for you).
Illegal taxi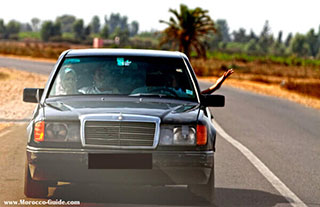 Sometimes you may see some illegal taxicabs trying to offer you their services. It is easy to check if these are official taxis or not-official 'petits taxis' have a sign on the roof with a unique serial number and the 'grands taxis' have a red circular logo on the front or the side of the taxi.
Related articles : Transport
---