Saïdia Travel Guide
Saidia is located in the extreme north-east Morocco, bordering the Mediterranean Sea, next to the Moroccan-Algerian border. The beaches along the coast in Saïdia are one of the longest in Morocco. It is a very attractive beach with fine, golden sand and clean waters. The city has a Mediterranean climate and has lately become a popular destination.
Getting there
By Plane
There are three international airports near the city : Oujda-Angad 50 km away, Nador-Aroui at 70 km and Melilla (under Spain control) 75 km.
By Train
There is no train station in Saïdia, although you can take the train to Oujda then a bus to Saïdia, or just take the bus all the way there as it is quicker.
By Bus
Book your ticket in advance as there are not too many buses to Saidia. If you are travelling there from far away in Morocco your journey will most probably be overnight. eg from Casablanca Departure 9:30PM Arrival 9:00AM cost 225Dhs.
By Car
If you are travelling from Tangier, Tetouan, Nador or Melilla take the national Road N16. From Rabat, Fes or Meknes : follow the highway A2 to Sortie Taourirt in Oriental and take N19.
Where to Stay in Saïdia
History
The Arab tribe 'Oulad Mansour' was living in the plains in Tazegraret on both sides of the river Oued Kiss. In 1845 Algeria was under French occupation and the river became the border dividing the tribe on either side.
In 1883, the Sultan ordered the construction of a Kasbah (fortification) and in 1890 the Ben Moumen tribe recognized the Sultan as ruler.
Places to visit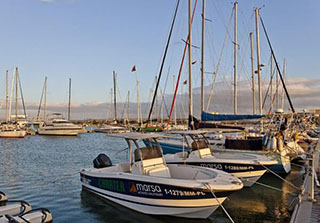 In 2009, King Mohammed VI inaugurated the first phase of the resort including homes, Two 5 Star hotels, a marina, a Medina with over 40 shops and a 18 hole golf course.
Saïdia Beach
Saïdia beach is a very big long with soft sand and clean water. There are camels on the beach which you can take for a ride. There is also the usual water sports to be found includings Jet Skiing and Surfing.
Marina
This small marina has a couple of restaurants serving amazing food, banks, shops selling very nice paintings, supermarket and other amenities.
Share your experiences with our community.
Join our Mailing List and receive electronic invitations and news about cultural events in Morocco.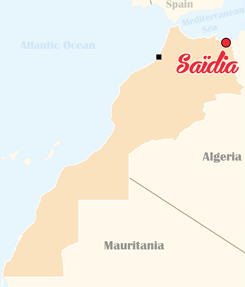 Coordinates: 35° 6′ 0″ N, 2° 16′ 58.8″ W
| | |
| --- | --- |
| Name in English | Saïdia |
| Name in Arabic | Saïdia or Ajroud |
| Region | Oriental |
| Population | 3 871 |
| Demonym | Saïdiyi |
| Zip Code | 63 600 |
Madagh

weather
Friday 11:00
Sky is clear
27

ºC

| 80

°F
---