Ifrane Travel Guide
Known as the 'Switzerland' of Morocco, Ifrane is a small city in the middle Atlas region of Morocco. It is the perfect destination for those looking to escape to the countryside for a peaceful and chilling weekend.
Getting there
By Plane
There are no regular flights to Ifrane Airport, instead use the bus or the taxi.
By Train
There is no train station in Ifrane.
By Bus
Most of the buses comes from Fes or Meknes. Both cities are 55km away from Ifrane. We recommend choosing 'CTM' or 'Supratours' and avoiding other old and cheaper buses. The 'CTM' buses are found in the east end of the market, while the other companies are in the new 'Gare Routière'(bus station) which is in the south-west of the market.
By Car
From Rabat, Casablanca or Marrakesh : Meknes is accessible via A2 highway, after Meknes you need to take the N13 to 'El Hajeb' and finally the R707 to Ifrane.
From Fes : Take the national road known as N8
By Grand taxi
We don't recommend travelling by 'Grand taxi', buses are always preferable. Grand taxis arrive in Ifrane at the grand taxi station in the south-west of the market, prices from Meknes or Fes 30 Dh per place.
Where to Stay in Ifrane
History
Ifrane was established during the French protectorate in Morocco in 1928. The landscape of the region is comparable to that found in Europe. The goal was to provide a place where the French could spend their summer holidays
Places to visit

Centre ville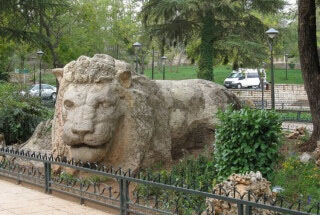 You can see in the park in Ifrane the iconic Sculpture of a Lion. The sculpture is the work of Henri Jean Moreau (1890-1956), who was an Art teacher in 'Gouraud' high school in Rabat. The sculpture dates from 1930.
Parc La Prairie
A beautiful park in which to enjoy nature and enjoy walking through.
Arzgoro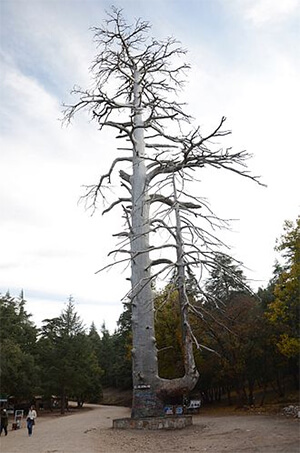 The oldest and largest cedar tree in the region is located in the middle of the forest of Arzgoro, The forest is notable as a habitat for a sub-population of Barbary macaques, Macaca sylvanus It is the only primate found north of the Sahara desert. The current population is threatened by habitat destruction and by illegal trade.
Michlifen Ski Station
This ski station is 40 minutes from Ifrane. Along the route you can stop and enjoy the beauty of the surrounding countryside. The station is low altitude and you can find several restaurants, however the prices are particularly inflated.
Source Vitel
A series of waterfalls inside the forests of Ifrane.
The small tourist train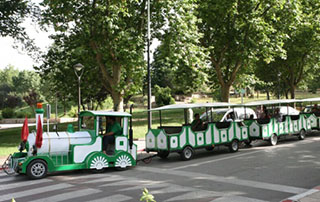 Next to the coffee and Beethoven Bowling Ifrane you can take a tour in this small train which does a circuit around the city, a pleasant and original way to discover the beauty of Ifrane.
Share your experiences with our community.
Join our Mailing List and receive electronic invitations and news about cultural events in Morocco.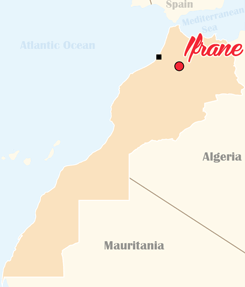 Coordinates: 33° 31′ 58.8″ N, 5° 6′ 0″ W
| | |
| --- | --- |
| Name in English | Ifrane |
| Name in Arabic | Ifrane |
| Region | Fes - Meknes |
| Population | 155 000 |
| Demonym | Ifrayni |
| Zip Code | 53 000 |
Ifrane

weather
Sunday 12:00
Moderate rain
9

ºC

| 48

°F
---