Home
›
Imperial cities of Morocco
Imperial cities of Morocco

History
Imperial cities of Morocco are the four cities that have been the capital of Morocco during the Moroccan dynasties: Fes, Marrakesh, Rabat and Meknes.
Fes

Fes was the capital of several dynasties : The Idrisid (974), Marinides (1244), Wattasid (1465) and Alaouite (1666).
Get Further Details About Fes
Marrakesh

Marrakesh was also the capital under four dynasties : The Almoravid (1071), Almohad (1147), Saadi (1511) and as second capital for the Marinides and Alaouite.
Get Further Details About Marrakesh
Rabat

Rabat was founded by the Caliph Yaqub al-Mansur in order to become his capital city in 1150. The city became the capital under the Alaouite Sultan Mohammed III.
Get Further Details About Rabat
Meknes

Founded by the Alaouite Sultan Ismail ibn Ali in 1672, it was the capital of Morocco from 1672 to 1727.
Get Further Details About Meknes
Join our Mailing List and receive electronic invitations and news about cultural events in Morocco.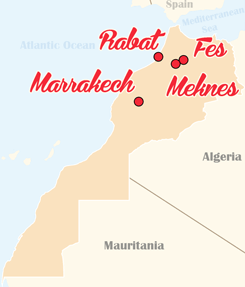 | | |
| --- | --- |
| Coordinates | |
| Rabat | 34° 1′ 31″ N, 6° 50′ 10″ W |
| Fes | 34° 3′ 0″ N, 4° 58′ 58.8″ W |
| Marrakesh | 31° 37′ 48″ N, 8° 0′ 0″ W |
| Meknes | 33° 53′ 42″ N, 5° 33′ 17″ W |
---