Transport in Morocco : Travelling by Train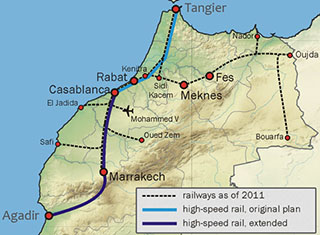 Taking the train is a good way to travel around Morocco. The railway network is run by ONCF (national state-owned railway company). Tickets can be bought online.
For a few dirhams more you can travel in first class which is the best way to travel as :
Seating is more comfortable.
Air conditioning.
Station announcements.
Morocco's high-speed rail line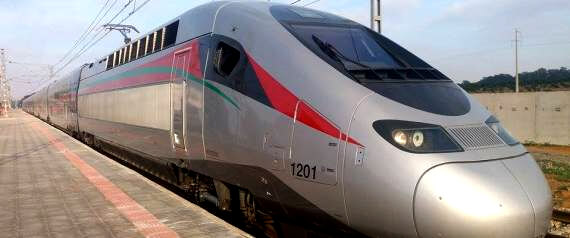 First Moroccan TGV 1201
Two billions of dollars are committed to the high-speed line Tangier-Kenitra, Morocco's rail company plans to deploy 1500 km of high speed lines, Lines operating at speeds of 320 km/h (200 mph). The travel time from Tangier to Casablanca will down from 4 hours 45 minutes to only 2 hours 10 minutes.
The commercial run of the first TGV is planned for 2018.
Using the train in Casablanca
Upon arriving in Casablanca, the easiest way to get to the city is by train. It is very cheap and very easy, and runs till just before midnight. The official Moroccan transport website (www.ONCF.ma) will show you all the info you need. However, the website is only in French, but as long as you know where you are going, it is easily manageable.
The station at the airport is located on the bottom floor, and is called AEROPORT Med V when looking at stations online. Purchasing tickets online before hand is easier, but many attempting to buy from an IP address outside of Morocco will have trouble and it may not go through. Whatever the case, there is a ticket office that will allow you to purchase tickets by card or cash. The ticket office is labeled, the Billetterie. First class tickets cost 133 DH, which is about U.S. $13, while Second class tickets are 88 DH, or just under U.S. $9.
The trains run fairly close to on time, but make sure to pay attention to where you are and where you are going. The stations are not clearly marked and there is rarely an announcement. However, from the airport it is normally 3 stops to the Casablanca Port station (called Casa Port), and 2 stops to the Casablanca Voyageurs stations (called Casa Voyageurs). Both are downtown and Casa Port is close to hostels. Travel time is between 30-50 minutes depending on how long each stop takes.
If continuing on to another destination, like Rabat for example, you will need to switch trains at one of these stations. Each train is designated with a number, and the ticket you bought will have the train numbers on them all the way to your final destination. Disembark, find your next train, and board as early as you can. The trains usually fill up and you do not want to be standing the entire trip.
Useful links: Schedules & Fares
You can purchase your train tickets online here:
Related articles : Transport
---