Casablanca Travel Guide
Getting there
By Plane
Casablanca Airport is one of the biggest airports in Africa. It is the gateway to the country and has many connections to other African countries. The Airport is located 25km from the center of the city.
A train service runs approximately every 60 minutes to and from Casablanca airport to the city (Station : 'Casa Voyageur'). Travel time is approximately 30 minutes and the ticket cost is 43 Dhs (5$). The first train leaves the airport at 4am and the last one leaves at 11:45pm.
By Train
There are two main train stations in Casablanca, 'Casa Voyageur' and 'Casa Port' both in the center. You can travel by train to almost all major cities in Morocco.
By Bus
Nearly all destinations are served and are very reasonably priced. 'CTM' and 'Supratours' are recommended.
By Car
All major cities in Morocco are accessible via the highway from Casablanca, however, be aware that driving within Casablanca requires a lot of attention as Casablanca is a highly congested city.
Where to Stay in Casablanca
History
Have you heard of the movie Casablanca? Well, Casablanca is in Morocco. The origins of Casablanca remain a mystery, however, according to Leo Africanus (1494-1554) - a Berber Andalusi diplomat author of the book 'Description of Africa', the city called 'Anfa' was founded by the Romans.
In the early 15th century, Anfa was targeted by the Portuguese and they used the city to build a military fortress which they called 'Casa Branca' meaning 'White House' in Portuguese.
After the Great Lisbon Earthquake in 1755 and the tsunami which swept the coast of North Africa the city was abandoned. In 1760 under the reign of Alawite Sultan Mohammed III, the city rose in importance as a port for international trade.
Places to visit
Hassan II Mosque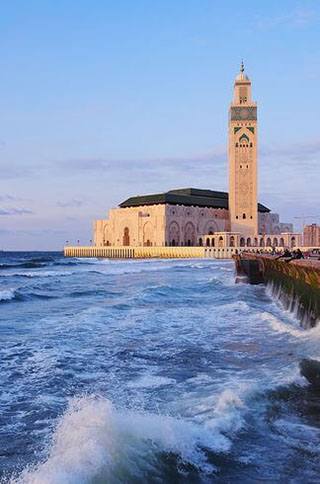 Be sure not to miss this place, Hassan II was the King of Morocco from 1961 until his death in 1999. The Hassan II mosque is the largest mosque in Morocco. Its minaret is the world's tallest at 210 metres. Over 6000 people worked on the mosque and the minaret towers over it, at a height of 689ft. Positioned by the Atlantic Ocean the mosque sees around 1000 people visiting it on a daily basis. Fortunately for non-muslim visitors this is one of the rare mosques where they may enter and take a guided tour around.
"I wish Casablanca to be endowed with a large, fine building of witch it can be proud until the end of time. I want to build this mosque on the water, because God's throne is on the water." King Hassan II
The Corniche
A nice long walk along the Corniche, enjoying the Atlantic breeze is a must. It's very close to city center and there are many cafes and restaurants where you can sip a delicious mint tea.
Quartier Habous
The perfect place to get your gifts and souvenirs, the place is not very crowded and you have small shops around. You can shop traditional clothing or just drink a mint tea
Morocco Mall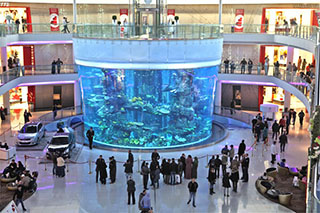 Casablanca is the Moroccan shopping capital, Morocco Mall is the second largest shopping center in Africa. The mall combines both shops and restaurants (more than 600 brands) but there is also a nice aquarium and a modern IMAX 3D movie theatre which offers English language movies.
Museums in Casablanca
Abderrahman Slaoui Museum
This small museum offers visitors a wide ranging collection of Moroccan Art, craftmanship and posters.
Villa des Arts de Casablanca
Many exhibitions, from different artists take place throughout the year. Entry is also free.
Museum of Moroccan Judaism
This small museum is a good place to learn about the history of the Jewish community in Morocco.
Fun activities abound in Casablanca
Casablanca is a well-designed modern city with all the conveniences you can think of: comfortable hotels, a multi-mode transportation system with great coverage and comprehensive infrastructure. But, above all, this is a great place to experience life. The city buzzes with curiosity and offers year-round entertainment.
Come enjoy its slate of cultural events, which is one of the most jam-packed in the country! National and international stars perform at the various festivals, concerts, shows and other cultural happenings. The best-known events are the Jazzablanca Festival, Boulevard Tremplin and the Casablanca Festival.
The city's energy radiates throughout the whole region. Casablanca is a can't-miss destination for party people in search of a good time! Clubs and restaurants pulse with trendy music to keep you dancing all night long!
Casablanca embodies a lifestyle, where tangible and intangible culture are equally important. Get carried away by its inviting, energetic atmosphere and taste for exploration!
Share your experiences with our community.
Join our Mailing List and receive electronic invitations and news about cultural events in Morocco.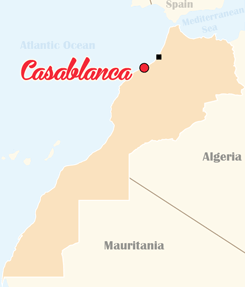 Coordinates: 33° 34′ 42.44″ N, 7° 36′ 23.89″ W
| | |
| --- | --- |
| Name in English | Casablanca |
| Name in Arabic | Dar Bida |
| Region | Casablanca - Settat |
| Population | 3 360 818 |
| Demonym | Casaoui |
| Zip Code | 20 000 |
Casablanca

weather
Friday 12:00
Few clouds
29

ºC

| 84

°F
---