Travel Tips : Food Precautions
Food and Water precautions You Should Know:
Can you drink the tap water in Morocco?
In many countries, and especially in Morocco, water is the traveler's principal enemy. Statistically speaking, one in two travelers is affected by traveler's diarrhea in the first 48 hours, and 80% of the diseases caught during the journey are directly attributable to a contaminated water.
Certainly, a traveler's diarrhea is fortunately often benign, but a diarrhea that has been contracted in a risk area can hide amoebas, giardia, bacteria or viruses, that can be the vector of serious diseases (typhoid or cholera, for example). The utmost caution is therefore necessary. It is not enough to simply avoid drinking tap water: ice cubes, food that has been washed with impure water or teeth brushing with tap water – even in a 4-star hotel – are contamination vectors. better to be safe than sorry: if possible, buy bottled water. But be careful, the bottles shouldn't arrive at your table without the top, because some little crooks will not hesitate to fill up these bottles with tap water! Boil water (coffee and tea are "safe" drinks), try to avoid eating vegetables or fruits if they're not peeled (follow the motto: "washed, peeled, boiled or rejected!") and banish ice cubes.
A good advice: always carry with you some antiseptic pills. Nothing is easier: one pill in your canteen or in a one-liter bottle will make your trek peaceful. Use them to brush your teeth, to drink a little water in the middle of the night or even to wash your fruits. Depending on the location, the circumstances or the type of travel, bottled water could be hard to find and we can't always boil water.
At the store
Check packaging and expiry date.
Check the price.
Read labels, especially if you are allergic, (there are no allergy warnings on packets).
Be aware that in some places products are not stored in chiller.
Everywhere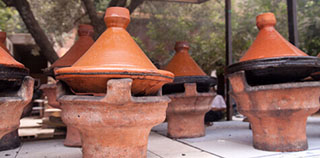 Avoid drinking tap water, it is preferable to drink only bottled water.
Check that water bottles have not been opened before buying.
Avoid ice unless made from bottled water.
Wash hands, meats, fruits and vegetables thoroughly.
Moroccan cakes are often made with almonds (in case of a nut allergy).
Related articles : Travel Tips
---