Ouzoud Falls - Cascade D'Ouzoud
One natural wonder that is a must-see in Morocco is Cascade D'Ouzoud, or Ouzoud Falls. This waterfall is one of the most visited sights in Morocco. The cascade is located in a small village in the province of Azilal, in the Grand Atlas region. The total height of the falls is 110 meters (330ft.), and has three drops, the largest being 75 meters.

Upon your arrival, you will need to find a place to park your car, and understand before hand that you will have to pay for parking. Most places will charge to around 2-4 euros per hour, or 20-30 DH. However, it is nice to know that your car is being looked after and is safe.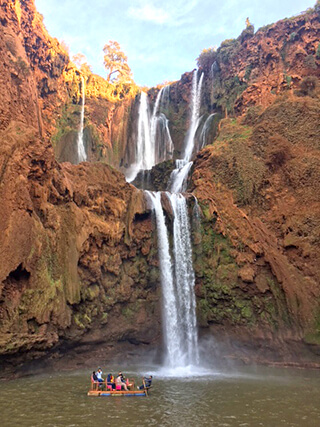 If you walk directly to the top of the falls, which is usually where most people go, there is a path that takes you to some great viewing areas perfect for photographs and walking. There are self-appointed "guides" that will ask if you want a personal tour if you pay them, but know they are not required nor suggested. If you continue along the path, there is a 2 km walk that follows the canyon edge.
The best views of the falls are not from the top, but from the side and bottom of the cascade. If you walk to the left, through the center square, and follow the stairs that continue down, you will be able to see and experience more. As you walk down the stairs shaded with olive trees, you will pass small family owned shops and restaurants, perfect for buying small souvenirs and gifts for those back at home.
At the bottom of the stairs, you will see great views of the waterfall. And for those that want an up close and personal experience, there are boats that you can be taken on directly under and next to the falls. The boats are lavishly decorated and have comfortable, albeit wet, seats. Nevertheless, it will provide a wonderful memory at one of Morocco's most beautiful natural landscapes.
This is a great place to spend a few hours enjoying the sound of the waterfall, sipping Moroccan tea, and eating a traditional Tajine.
Share your experiences with our community.
Related articles : Natural destinations
Join our Mailing List and receive electronic invitations and news about cultural events in Morocco.
---