Berber Carpet
The Berbers have lived in Morocco for more than three millennia, the Berber carpet also called Berber rugs is iconic in Berber culture, those carpets are handmade in Morocco by Berber Women, the patterns and their meanings are part of a the berber tradition.
History of the traditional Berber carpet
The origins of the Berber carpet is in the Atlas Mountains of Morocco, the Berbers used different techniques from those used for the Oriental or the Persian rugs.
Prices of the Berber carpets
The price depends on the quality and the transport cost of each carpet, be aware that it isn't easy to find an authentic Berber carpet, for example Beni Ouarain carpets are sometimes made by other tribes and their quality is not matching the originals (price may vary from 300$ to 700$).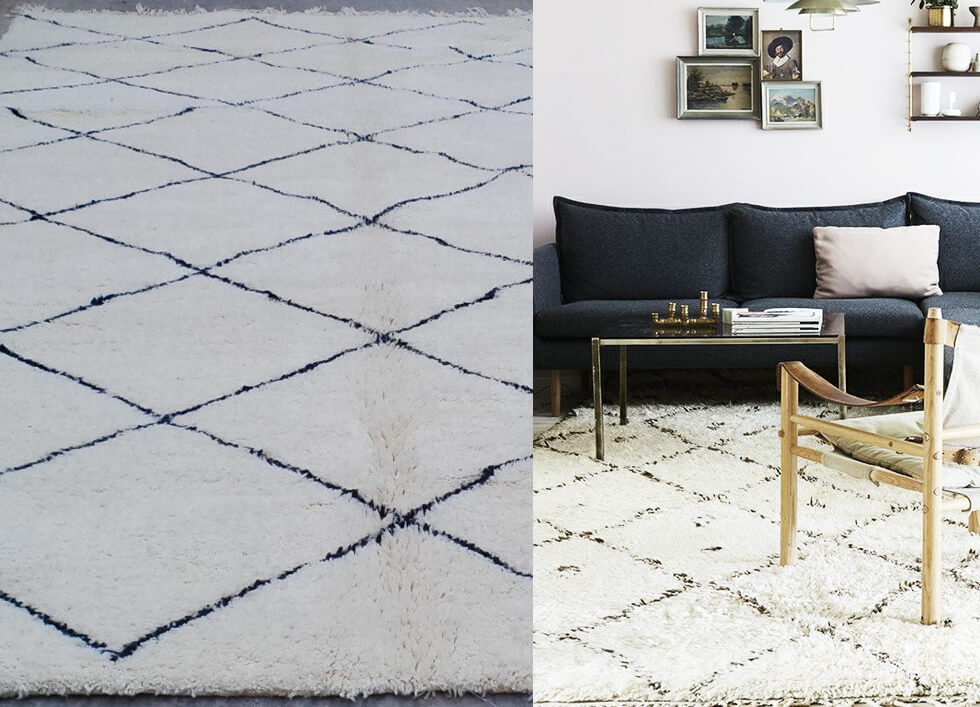 Beni-ouarain berber carpet
Colours and Patterns of the Berber carpet
Each berber tribe have its own carpet pattern, The carpets of Beni Ouarain tribe is minimalist with only black diamond forms and a white background, while the carpets of Azilal are very colourful and artistic, the carpets of Beni M'guild tribe are coloured with one main colour (orange, pink or blue). You can also find other tribes each one has its own style like the Boucherouite, Boujad, Talsint, Zaiane ...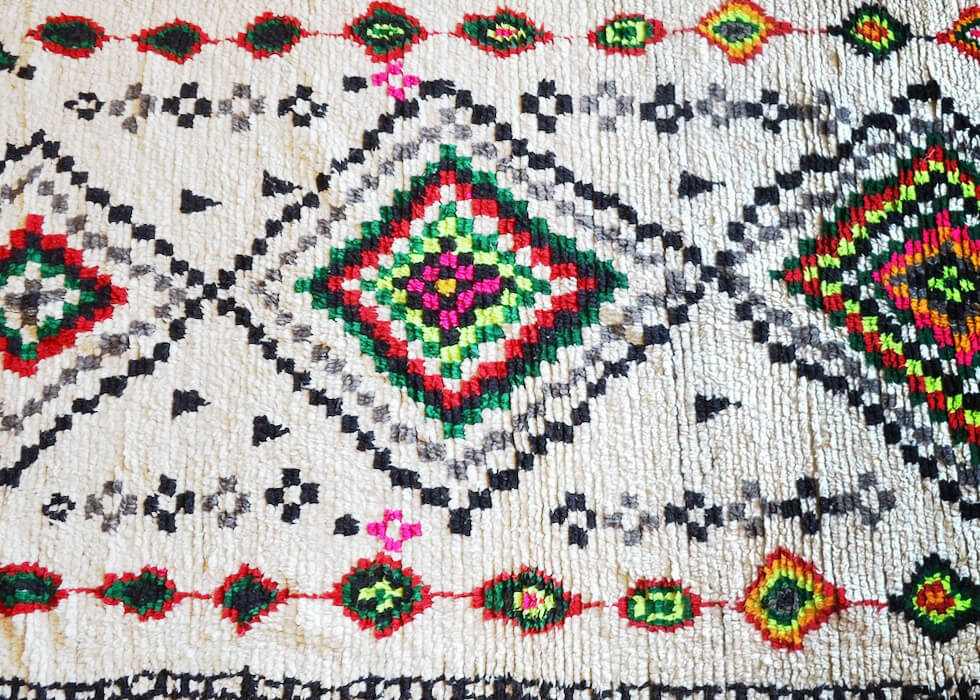 Pattern of the berber carpet - From the region of Azilal
Dimension of a Berber Carpet
Longitude can vary between 2m up to 6m while the width is almost between 1.9m to 2.5m.
How to clean a Berber carpet
Berber carpet are easy to maintain and keep clean you can easily clean a Berber carpet by yourself, The best way to clean it is to use a mix of water with soap (five parts to one) and apply with a sponge then let it dry in the sun for one day or two, you could also use a steam cleaner if you find it is hard to clean or if it is really dirty.
Share your experiences with our community.
Related articles : Culture
---