Moroccan Kaftan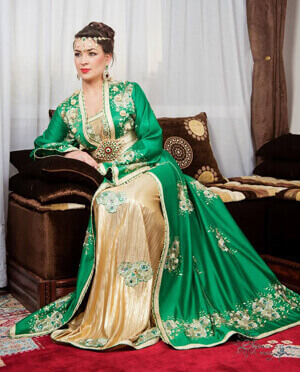 The traditional dress has taken the Arab fashion world by storm worn by most celebrities for major functions. The kaftan (or Caftan) is synonymous with elegance and modesty and style. This timeless piece is can be made up of several layers known as a 'takshita'. Adorned with elaborate and delicate details on a variety of fabrics makes the kaftan so versatile in dress and appealing to all. It's also even evolved as a staple piece for all women around the globe as a cover up.
Kaftans can be dressed up or dressed down as casual wear. Enrobed fabric accessorised with a matching or gold/silver belt makes the kaftan so requested by all; suiting and catering to all shapes and sizes
The kaftan came about in the Ottoman Empire and became popular in Morocco in the 14th to the 17th century. Depending on how the kaftan was accessorised was reflective of your hierarchy in society.
Jewellery and kaftans have evolved quite a bit since, with the variant fabrics and patters used and lining plait known as the 'sfifa' and buttons lining he pieces from top to bottom.
Kaftan in Moroccan culture
It is endocrine in Moroccan culture for women to buy fabric and go to what is known to be as a 'Mosamima'; a designer; the acquired fabric is taken to the designer and ideas are discussed with the designer of the desired look; the occasion marked for the dress is also discussed and measurements are taken and within a matter days to weeks the caftan is designed. This makes each dress distinct and unique to the client. The custom for Moroccan bridal to also wear several changes (which can be up to as many as seven changes) in Kaftans and takshita's in all the wedding ceremonies in particular the wedding reception. Each dress is varies from the other with accessories compromised of gold, silver and pearls, thus keeping guests hooked looking forward to the next dress.
Moroccan style clothes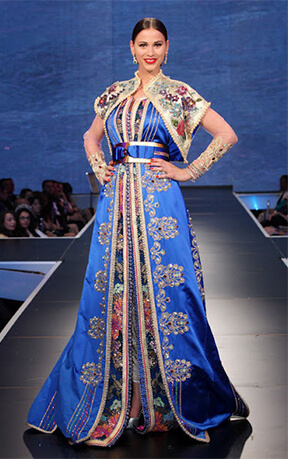 With it's increased demand and Morocco's style identified with the caftan there are many celebrities whom wear these dresses on the red carpet and at large affairs.
Once a year around the world fashion shows; showcasing takshita's and caftan designs from very popular Mosamima's in countries such as Holland, Belgium, France and United States. And ever so popular magazines such as Femme Du Maghreb and Nisaa El Maghrib promoting Moroccan fashion and 'haute couture' caftan designs.
With the all this appeal, versatility in fabric, patterns and designs the caftan is has definitely stood the test of time and here for much longer.
Moroccan Tarboosh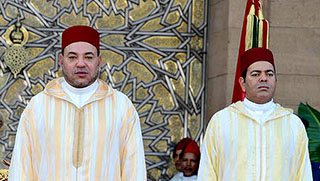 The 'tarboosh' or 'tarbouch' is a red hat made by local artisans of the city of Fes (Fez) in Morocco, it is also known in the United State as the symbol of the fraternity of Shriners International since 1872, it is known outside Morocco as 'the fez'.
Related articles : Culture
---